Add a new driver to your fleet so they can start uploading documents.
There are now 2 ways to add a new driver to your fleet in Vector. You can either send an invitation to a driver or provide them with your fleet's company code so they can sign up on their own.
Send an Invitation
As a fleet's administrator, you can invite a new driver to join your fleet. To do so, follow the steps below:
1. From the Web Application, navigate to the Invites tab in the left-hand panel.
2. In the top right corner, click the orange CREATE INVITE button.
3. In the form that appears, input the driver's First Name and Last Name. For the Role field, make sure Member is selected.
Input the phone number and/or email address you'd like the driver to receive the invitation link.
If you enter a phone number, the driver will receive a text message with a link to download the application and finish setting up their account.
If you enter an email address, they will receive this link to their email inbox instead.
If you enter both, the driver will receive text message AND an email with a link to download the application and finish setting up their account.

The link the driver uses to register will be their login. For example, if they finish setting up their account via email, their login will be their email.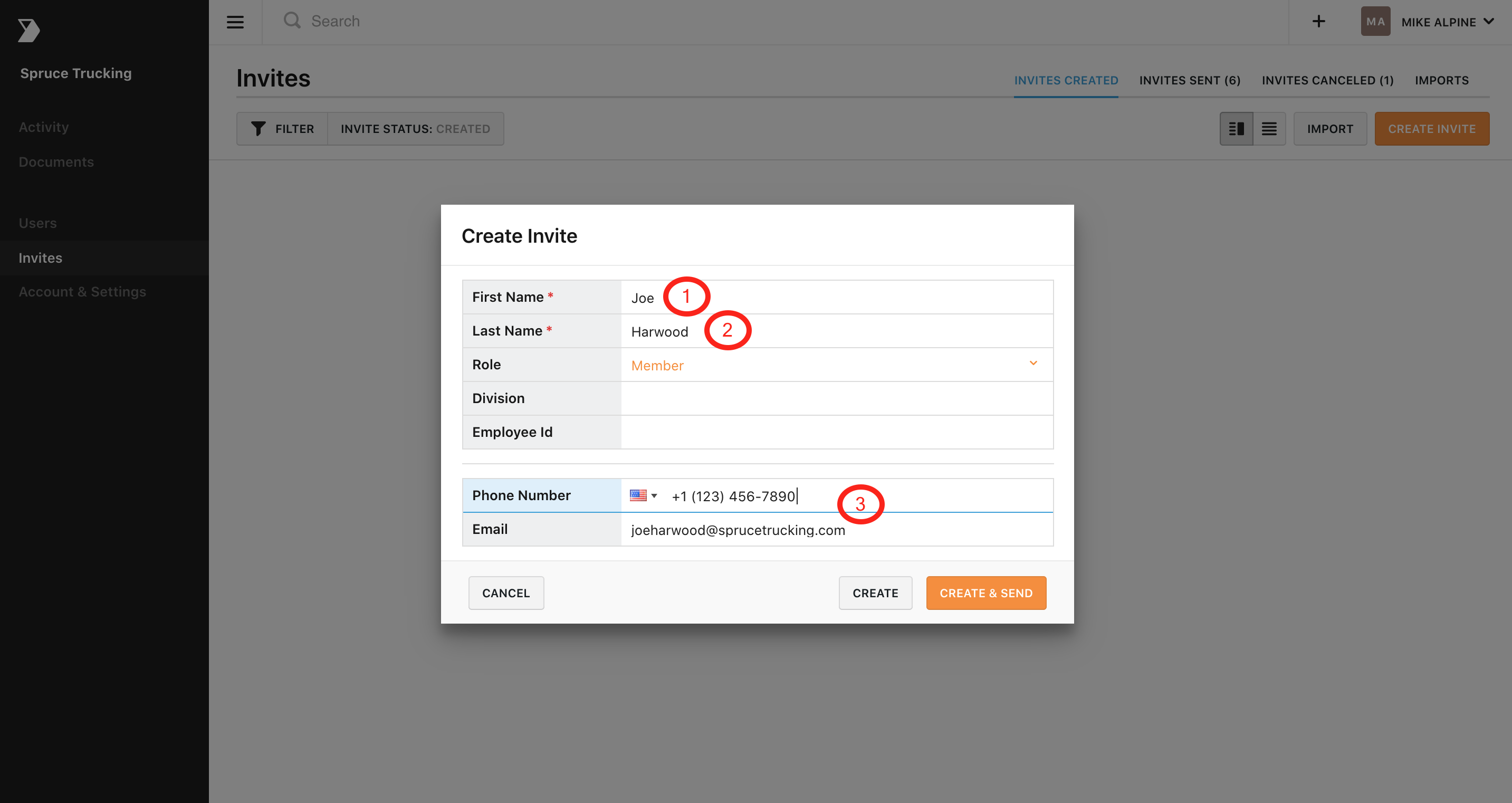 4. Once finished, click
CREATE & SEND.
5. Sent invites will appear in the INVITES SENT tab. Once an invite is clicked on, you'll have the option to resend, cancel or entirely delete an invitation through the buttons at the top of the panel.
6. To check if a driver has accepted their invite and is now part of your fleet, click the Users tab. The driver's name will populate on this list. They are now able to upload documents to your fleet. These will appear in the Documents tab along the left hand panel.
SHORTCUT TIP: To bulk invite users, click IMPORT on the top right.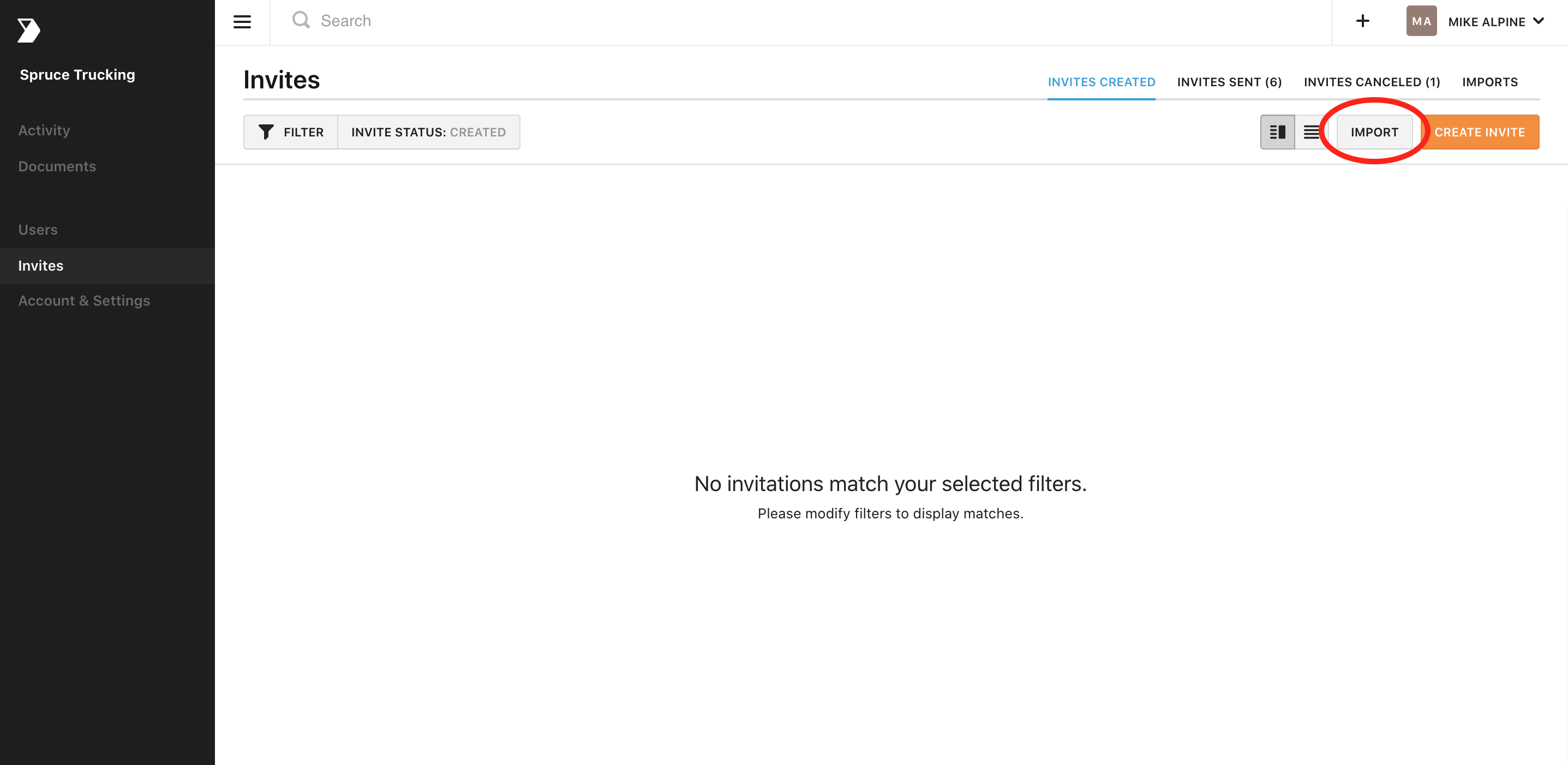 In the form that appears, download the template and fill out the required fields.
Template - Required fields are first name, last name, role (type in Member), and a phone number and/or email address.
Send Invitations - If you check this box, it will send out the invites, which you can view under the Invites Sent tab. If you don't check this box, then it will create the invite but not send it; you can send the invite when you are ready under the Invites Created tab

.
Upload your CSV and click SAVE.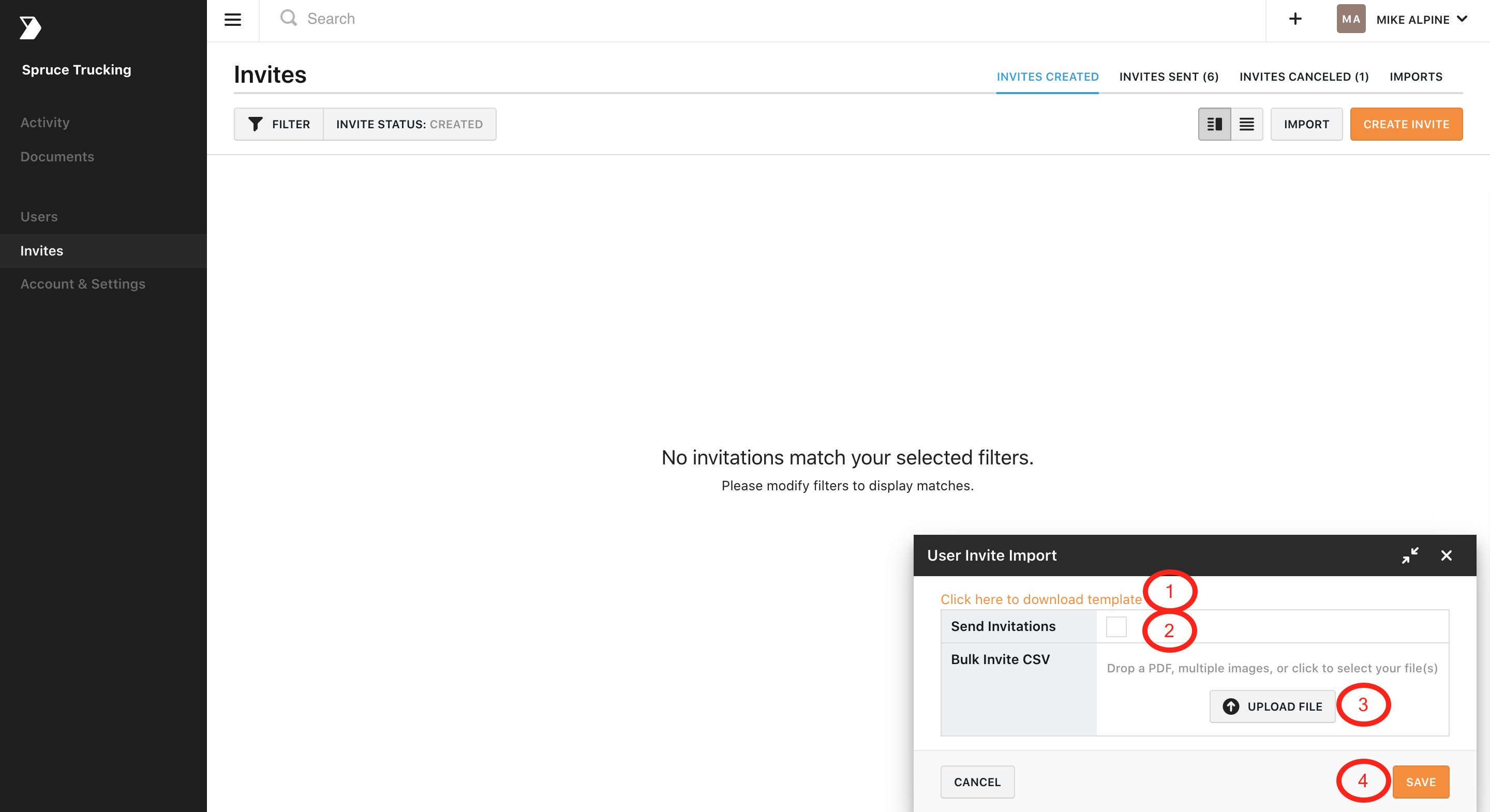 Driver Signs Up Using Company Code
Drivers can now join your fleet with the use of a company code. Please note, drivers need to be running the mobile application version 10.4 or newer to take advantage of this feature.
How do I find my company code?
1. To locate your company code, navigate to the Account & Settings tab in the Web Application.
2. Click the General tab under COMPANY. At the bottom, under the headline Onboarding, your fleet's unique company code will be listed.
If you would like to update your company code, please contact us at support@withvector.com.
3. Once you have located your Company Code, share it with the drivers that need to sign up under your fleet.
How do drivers sign up using my Company Code?
Instruct them to follow the below steps to register with your fleet using the Company Code. You can also share this support article with your drivers, which walks through how they can do this as well.
1. Download "Vector Mobile" on your phone's app store. The vector mobile app is free and available for use on all Android and iOS devices.
2. Once they open the application, drivers will click "Register" underneath the orange Sign In button.

3. The driver will then enter in your fleet's Company Code.

4. Driver will also fill out their name, phone, and/or email address, and set the password for their account. Once complete, they will have officially joined your fleet and can now upload documents automatically into your fleet.

5. Emails listed under User Notification Emails will receive an alert every time a driver registers using just the Company Code. Here's how to sign up for those email alerts.